Not that anyone reads it but I wanted it to be a kind of diary of how my knitting progresses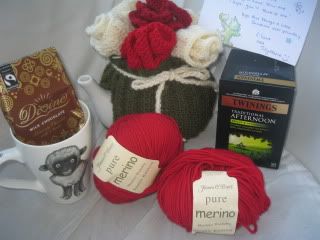 I joined in one of the knitting swaps on a forum I am a member off, well more of a lurker most of the time! the swap was "Afternoon Tea" so to my swap I sent the following: knitted tea cosy taken from a pattern I found on Rav called rosie posy tea cosy, a white tea pot, 50 afternoon tea bags, a bar of scrummy choc, 2 balls of pure merino and a sheepy mug :) swapee liked it what was a big pphhewwww from me!
Now waiting for my swap to arrive cant wait !